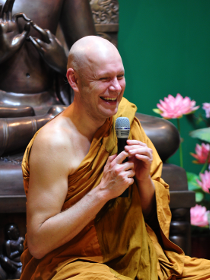 Ajahn Brahmali was born in Norway in 1964. He first became interested in Buddhism and meditation in his early 20s after a visit to Japan.
He completed Masters degrees in engineering and finance, before renouncing the world of industry and commerce to ordain as a bhikkhu with Ajahn Brahm as his preceptor in 1996.
Apart from having been responsible for the building work at Bodhinyana, Ajahn Brahmali also teaches the monastic rules (the Vinaya) and gives Pali classes (the language of the texts).
Ajahn Brahmali's clear and thoughtful talks make the teachings of the Buddha accessible to all and are very popular downloads on the BSWA website. He teaches regularly at BSWA and in a number of countries outside Australia. Ajahn Brahmali has also published a number of articles on important points of the Dhamma.