The Tilorien community was invited to join this fall's Theravada AG meeting at a lovely little Thai temple in Langenselbold, near Frankfurt a. M., and to give a presentation about our monastery project and our work for SuttaCentral. Theravada AG is Germany's body for representing this branch of Buddhism in the German Buddhist Union.
At the last moment, Ayya Vimala fell sick, so Ayya Kathrin and Anagarika Sabbamittā had to embark on the journey alone. After an exhausting 7-hour ordeal, passing Frankfurt in the Friday evening rush hour, we finally arrived and were met by a group of very friendly and sympathetic Thais and Theravada AG members.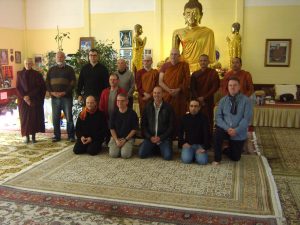 The next morning, we had a lively discussion with the participants of the meeting. Our aim to establish a place for female monastics in Europe received much positive feedback, and our presentation about Early Buddhist Texts and SuttaCentral sparked especially much interest. It was wonderful to discuss with like-minded people who gave us a lot of moral support for our projects. We left with much inspiration and positive energy.