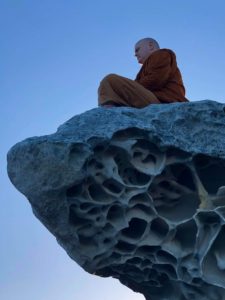 Zum Ende des Jahres wird Bhante Sujato die Vereinigten Staaten und Europa besuchen.
Das sind die Stationen seiner Tour:
USA
Südkalifornien
Nordkalifornien
New York
Europa
Irland
16.-17. Nov, 9:30–16:30 (AppleTree, Dublin): Wochenendretreat ohne Übernachtung "Climate change and gender issues: Buddhism in the modern world"
18. Nov, 19:00-21:00 (PSI Grantham House, Dublin) Öffentlicher Abendvortrag: "SuttaCentral and the Early Buddhist Texts, their translations and parallels"
Slowakei
Polen
Deutschland
Belgien
20. Dez (Fr): Abendvortrag bei Ehipassiko, Antwerpen
21. Dez (Sa): Meditationstag bei Ehipassiko, Antwerpen
Dez 22 (So): Sutta-Kurs im Kloster Tilorien
29. Dez–8. Jan (So—Mi): Klausur mit Samita ASBL in Yeunten Ling, Huy
Österreich
Näheres bitte von den einzelnen Gruppen erfragen.